Chris Pollett > Students > Hammoudeh

    Print View
    [Home]
    [Blog]
About Me
My name is Zayd Hammoudeh (zayd.hammoudeh@sjsu.edu); I am a computer science graduate student at San Jose State University. I have bachelor's and master's degrees in Computer Engineering from Drexel University.

At the time of writing this, I work on wireless power transmitters and receivers at Integrated Device Technology (IDT) in San Jose, CA.

Between work and getting my degree, I have little time for other outside hobbies so instead of discussing those, I will post a picture of my cat, Muffins. She is a tabby, purebred Siberian; she enjoys tuna fish and looking out the window. She is photogenic but often a reluctant muse. I will use images of her to display many aspects of this project.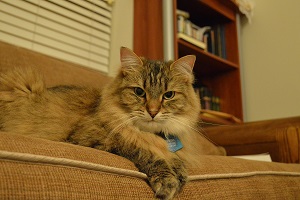 Muffins the Cat