Itinerary for Sunday, July 26th, 2009
Day in San Francisco
9:00am: Pick up at SJSU
10:00am – 11:30am: San Francisco Walking Tour: Chinatown
Explore colorful alleys and side streets--the essence of Chinatown--home for family    associations, sewing shops, community organizations, and churches. See shops selling Chinese medicinal herbs, gold jewelry, and vegetables.
www.sfcityguides.org/desc.html?tour=8 
<![if !vml]>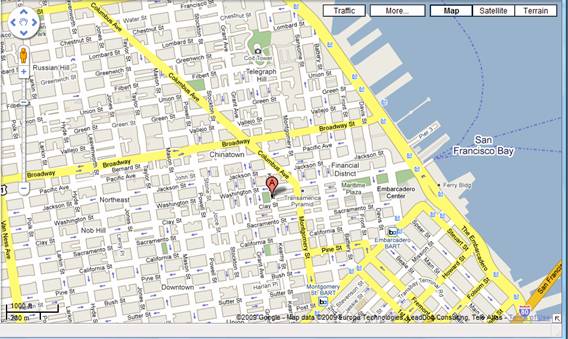 <![endif]>
12:00pm – 2:30pm: Lunch and free time on your own in San Francisco.
Here are some suggestions:
Explore North Beach (Columbus Ave., Grant Ave, Telegraph Hill). This is San Francisco's Italian district. The best restaurants in the city are here. Grant Avenue is where the beatnik movement started. There are still some famous old cafes, bookstores (City Lights), and bars where Kerouac and Ginsberg spent their time. North Beach is also where the famous nightclubs are located.
Give yourself about 30 minutes to walk to Pier 39 where the boat will depart (see the map below). If you get lost or are running late, take a cab.
Alternatively, after the tour, walk directly to Pier 39, the departure point for the cruise. Pier 39 is a major tourist attraction. There are many restaurants here, too. Also, it is right next to two other major tourist attractions: Fisherman's Wharf and Ghirardelli Square (this is a chocolate factory that the Swiss students will probably hate.)
3:00pm –4:45pm:
 

Boat Tour of San Francisco Bay - Escape From the Rock
Murder, Mayhem and Mobsters. Come join the Fun!
Experience Blue and Gold Fleet's Escape from the Rock Cruise! It's a 90-minute bay cruise journey that sails under the Golden Gate Bridge and then circles Alcatraz allowing you to see every angle of this mysterious island. You'll hear chilling accounts of harrowing escape attempts by Alcatraz's notorious criminals as well as their descriptions of the brutality of life on the island. This special San Francisco bay tour "fully-loaded" with sound effects and intriguing stories about Capone, Billy Cook the Killer, Clyde Johnson's escape attempt, and many more, will take you back to the days when this maximum-security prison was the most feared institution in the American penal system. SPECIAL BONUS: Every child ticket purchased (ages 5-11) will receive one complimentary pair of 5x magnification Blue & Gold Fleet souvenir binoculars to make this extraordinary tour even more memorable.
www.blueandgoldfleet.com/Escape/index.cfm 
Directions:
<![if !vml]>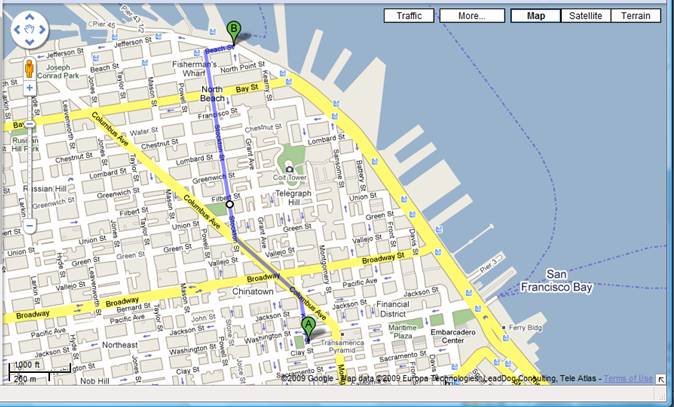 <![endif]>
5:00pm
:

 

Depart back to SJSU